Marriages are a pious institution and considered as the ultimate sacrament of all in the Indian traditions. As per the Hindu traditions, Vivaha (marriage) has been considered as one of the most important sacraments, allowing the union of two personalities for the maintenance and to carry forward the family name and the society.
For the longest time, marriage has been considered as the ultimate religious duty of both men and women and not a means to enjoy companionship support or compatibility. Due to this, many couples have lived in an unhappy marriage.
The Hindu Dharma does not provide for divorce, and thus, for the longest time, divorce has been considered a taboo in the Indian society. For many years, any man or woman gone through judicial separation or mutual divorce have not been accepted by the members of the society and have usually ended up with the mudslinging.
With the progressive time, the society and its thinking are also moving forward. A lot of people who are unhappy in their marriage are opting for divorce whether the marriage has gone through one year or 20 years.
Women, too are prioritizing their happiness over what the society will think or how the society will treat them. Though it is still considered as a taboo, a lot of people are trying to normalize divorce in the Indian society.
What are the various ways to get divorced?
Mutual Divorce: Divorce by mutual consent, basically means a divorce not involving the courtroom, where both the husband and wife mutually decide to separate and sign a joint petition whereby stating that they have bene living separately for more than a year.
In India, divorce by mutual consent is the fastest, respectful and dignified way to get separation as in this case both the partners who believe that they cannot live together harmoniously and voluntarily agree to all terms and conditions of their joint petition to separate legally. Such a joint petition contains matters of maintenance, custody of child, division of assets, shelter of the spouse etc.
Contested Divorce: a contested divorce is the type of divorce where one partner applies for the divorce and is ready to separate from the spouse while the other partner does not want wish to separate. In such a case, the divorce proceedings are heard in front of a judge and matters such as property dispute, Child custody, maintenance and alimony I decided not by the partners but by the judge.
A contested divorce can be filed only on certain grounds which are mentioned under the law. Such grounds are – cruelty, adultery, dissertation, conversion, mental disorder, communicable general diseases, etc.
What are the things to think before filing for divorce?
Divorce in India, is an exhausting and a lengthy legal process which must be thought through at all times and not taken as an emotionally irrational decision. After filing for divorce or during the proceedings, it is almost impossible to go back to the marriage thus, it is very imperative that before filing for divorce certain issues must be considered, such as:
Health of the marriage: Divorce should be a choice that you make for yourself and not anyone for you. A lot of people around you might suggest to compromise or to separate from your spouse. It is very important to understand that living in a marriage or walking out of it should be your decision and yours alone.
Understanding the core issues: Another important aspect to reflect upon is why you wish to seek a divorce. Is it because of certain conflicts between you and your spouse or because you and your spouse are unable to live together anymore or because there was cruelty of any type.
Get a good lawyer: It is very important to consult a good lawyer before moving forward with filing of the divorce petition. The person seeking divorce must consult a lawyer and explain to them about the issues that they are facing in the marriage. and discuss about the recourse to such a problem.
Know the laws: Apart from consulting a lawyer, the person must also be aware of the basic laws regarding divorce and maintenance. This is done so that if the person moves forward with the divorce petition, they are aware of what they are getting into as well as the legal rights and duties surrounding what they are about to file.
Prepare for the custody of your child: After the break down of a marriage, the custody of the child is one of the most sensitive issues of divorce. In case of a mutual divorce, it is both the partners who decide the custody and the visitation rights of the child but in cases of contested divorce, the judge decides whom the child will stay with and who shall get the visitation rights. Factors such as welfare, finances, safe environment, education and the child's preference are considered by the courts in granting the custody of the child.
Finances: The person seeking divorce, especially women must be financially independent for a few months before filing the divorce petition. This is because a divorce petition especially in India takes time to reach a solid ground and can be quite expensive too.in the court. A lot of times, spouses become spiteful when the divorce starts and may cut you off financially. Although your attorneys can get you financial support, it will take time to do so.
Be mentally prepared to face obstacles: Everything that you say, do, shall be used against you. The spouse that you vowed to spend your life with, will be in the battle against you. Relationships that involves going to the court become very fragile and things can escalate to violence very easily. It is very important for you to be prepared in advance for every possible situation as every decision in a divorce can have long-lasting impact on your life.
Support system: When issues between you and your spouse are difficult to be tacked by you alone, you must seek support and guidance from your friends and family. Sometimes, issues between the partners require outside interference from friends and family to solve. If you have decided you no longer wish to reside in a marital relationship with your spouse, then it is very important to inform and include your Friends and family into the decision.
Seek help: Mental health of a person is affected immensely during the divorce proceedings. Seeking professional help can help you understand what you really want. It can also sometimes illuminate on the aspect of where you went wrong in the relationship and can also help with the reconciliation.
What documents will you need while filing for divorce?
Depending on the type of divorce, the court may ask for:
Address proof of both husband and wife.
Details of professions and current earnings of husband and wife.
Certificate of marriage.
Information regarding family background.
Photographs of marriage.
Evidence to prove that the husband and wife have been living separately for more than a year.
Evidence proving failed attempts at reconciliation.
Income tax statements.
Details of property and assets of the parties.
Other documents too may be needed, depending on facts and circumstances of the case.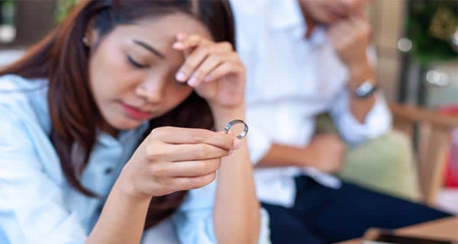 What are the steps involved in getting a  mutual consent divorce?
STEP 1: File a joint divorce petition.
STEP 2: Appearance of both the parties in the court
STEP 3: Scrutiny of documents & Recording of statement on oath
STEP 4: Court passes order on First Motion.
STEP 5: Cooling off period of six months given to couple by court to rethink decision.
STEP 6: Filing of Second Motion is done within 6- 18 months of First Motion.
STEP 7: Decree of divorce passed by the court.
How can GS Bagga & Associates help you?
Greetings! When people marry, they do so with a hope of spending a lifetime together, sharing joys and sorrows together. Sometimes, marriages do not work out as while living together, they realize that they both are not able to cohabit together as a couple and it would be bets to part their ways. In such situations, lawyers play a major role in getting you a divorce. The offices of G.S. Bagga & Associates have been experienced in family law and matrimonial issues for over 7 years now. If you've found the above information satisfying, you can get in touch with us and can book a free consultation. We would love to support you with our legal expertise in the matter. Feel free to contact us, anytime